Deflategate Suspension Shifts Odds on Patriots' Super Bowl Chances
By Frank Scandale @Fscandale @TheDailyPayoff
Las Vegas odds makers say the four-game suspension meted out to Patriots' quarterback Tom Brady triggered adjustments in their outlook on the Super Bowl champs repeating, but all bets are off on final lines until an appeal is heard.
For those who put the season opener against Pittsburgh back on the board, their point spread against Pittsburgh also got much tighter.
All of this might have been expected given untested, back-up quarterback Jimmy Garappolo is the likely on-deck replacement. But what is still uncertain for odds makers is how many games ultimately Brady will be suspended on appeal, which was filed by Brady Thursday and agreed to be heard personally by NFL Commissioner Roger Goodell.
That decision by Goodell is in itself a controversy, as the players' union had urged the commission to appoint a neutral party.
All this drama is being played out in public while sports books such as Johnny Avello, executive director of race and sports operations at Wynn Las Vegas, are busy adjusting lines and watching this like a Shakespearean play. Avello said after the news came out on the lengthy suspension, he made adjustments to who wins Super Bowl, dropping the odds for the Patriots from 7-1 to 9-1.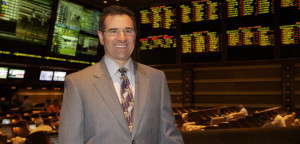 "I was giving the odds at 5-2 to win the AFC conference and now it's 4-1," Avello added. "The reason is if they miss him for four games, the other teams could get possible jumps. Miami, Jets, Buffalo all have been lowered a bit…if it is two games, I'll back off a little bit, maybe go to 8-1."
The opening game is Pittsburgh and without Brady Avello says its a pick 'em game. The second game at Buffalo will be "difficult." Jacksonville is up next and at home and he gives the Pats a win there, but the fourth game (after the bye week) is a tough game with Dallas.
"They could be 2-2 after four games if he's not around, Avello said. "The Super Bowl champs get a tougher schedule."
He also believes the Pats will not look for another quarterback.
Meanwhile, Jimmy Vaccaro, head of South Point Casino's Race and Sports Marketing division, said the point spread for the Patriots-Steelers opener dropped to 1.5 from six points once the suspension was announced.
"Brady can move a game about six points. But with lots of time to prepare, and you adjust for the Superbowl win, we move it up a tick, Vaccaro said. "As for the rest of the division…the Jets, Bills and Miami, they are all about even. So now if you put the four games without Brady, the division up for grabs. We are just waiting an seeing how many games this suspension will be."
Bookmakers in general had the Patriots to win 10.5 games prior to the suspension but now lowered to 10 games on the over/under.
"You have to remember that Tom Brady is the top quarterback in the league, but you can't throw away the rest of the team. It is still a Superbowl winning team."
Jay Kornegay, vice president of race and sports operations at Westgate Las Vegas Resort and Casino, said originally there was not much of an adjustment planned as nothing in the investigation suggested a four-game suspension was likely.
"We were thinking a fine and a one-game suspension," said Kornegay, a lifelong Broncos fan and Colorado self-professed "homer." "And a one-game suspension would make minor adjustments."
Once The Wells report came out, Kornegay took the opening game against the Steelers off the board, where the Pats had been a six-point favorite.
"Once they announced four games, it was chaos for day and we had to make adjustments," he said.
Additional fallout included raising the Super Bowl champs' odds for a repeat to 8-1 from 7-1 after the suspension was announced. They also simultaneously changed the Denver Broncos line to 12-1 from 14-1 on the news.
The odds of the Pats winning the AFC conference was raised to 7-2 from 3-1, as well.
Oddsmakers explained the reason for the relatively minor adjustments was because they knew Brady would appeal and there's a good chance the suspension would be reduced.
"These numbers are based on a two-game reduction already factored into this line," Kornegay said, adding the line would be adjusted again if the four games are upheld.
Though initially Westgate took the Patriots-Steelers game off the board, it is now back on with the Patriots a two-point favorite. Why?
"They've done this before with Matt Cassel (2008 season when Brady got injured in the opener and was out all season) and won about 10 or 11 games (11 actually). They'll be at home and they'll be a lot of emotion there."
He also thinks Coach Bill Belichick will come out blazing with something to prove.
Now, let's see what the line is on that bet.