Kentucky Derby: Any horse's race that could use a Jennifer Lopez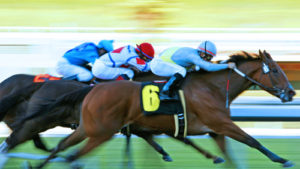 By Frank Scandale
Saturday's Kentucky Derby seems to have about as much sizzle this week as former presidential hopeful John Kasich's campaign, if you are an average American following the cultural trends of the moment.
Obviously, if you are reading this, you and many others deeply connected to the sport and related betting efforts, are as immersed in the race as Anderson Cooper is in the presidential race. But for the casual fan, the ones the sport needs to thrive beyond the big marquee events, this might not be the race that changes  their Saturday evening schedule.
It's not even in the top 20 Twitter trends as I write this.
That's not to say it won't be a widely watched race, replete with Derby parties from coast to coast, mint julips, big hats and much betting. But unless Jennifer Lopez gets announced as a jockey on one of these horses, the pre-race excitement level will hover far below last year's event.
You remember last year's race? The one when a horse named American Pharoah burst onto the scene as the first legitimate Triple Crown threat since Affirmed in 1978.
Even before Pharoah had stepped onto the Louisville track, he was revered from coast to coast by just about anyone who had ever been to a track or a Derby party. People who didn't know a Triple Crown from triple bypass bandied about his name with customary casualness, as if they had dined with the 3-year-old just the other night.
But this year, I sensed a lack of excitement, if not downright ignorance that the most heralded horse race event of the year was about to take place. I'd wager if you polled a mall full of shoppers, they couldn't name two horses in the race. I wondered if it was just me as I drove home from work the other night.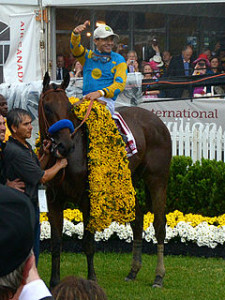 But I was listening to sports radio when a caller pinged host Mike Francesa and uttered my thoughts. Bingo. Franesca sort of agreed, sort of disagreed, but did chalk it up to an absence of an American Pharoah. Today I opened up USA Today and the centerpiece print edition story signaled the same malaise.
Perhaps it's been the drab weather that the New York metro area has been experiencing this week. Chilly rain and cancelled baseball games have done nothing to fuel the excitement  that warmer temps and sun usually generate. Hard to wear a so-called "picture hat," the widebrimmed numbers favored by decked out ladies at the Derby, when the rain is going sideways.
That said, industry players such as Stephen Panus, vice president of the Jockey Club/America's Best Racing, are on the scene by now, working the crowd and generating enough interest in the race to assuage the naysayers.
He agrees though, that no horse is garnering the kind of odds that Pharoah did.
"Nyquist is the favorite but agree the race is wide open. I see 11 horses who could win,' he said, a day before heading off to Louisville.
Nyquist, ridden by Mario Gutierrez, earns his favorite status by virtue of a 7-for-7 record, including four Grade 1 races. He was listed at 3-1 Friday afternoon by many bookmakers. Exaggerator is the next best bet at 8-1, and then a few at 10-1. A couple of good breakdowns of the field can be found at http://onforb.es/1WdtclF and another by America's Best Racing.
In addition, American's Best Racing offered a video analysis of the race. https://www.americasbestracing.net/videos/2016-2-guys-and-crown-kentucky-derby
Meawhile William Hill US said it was offering bettors odds both to win the Derby and odds to win the 2016 Triple Crown for a field of 20 horses.
Bettors can wager on both the horse to win the Kentucky Derby and an extensive menu of Derby props and matchups  on any of the 105 William Hill Sports Books in Nevada or on the William Hill Mobile Sports app.  A full list of locations and details on the Mobile Sports app can be found at www.williamhill.us.
I hope I am wrong about this Derby excitement drought. I hope Saturday dawns and millions of fans can think of nothing else but those brief moments of sheer madness when dozens of thundering hoofs pound the track at dizzying speeds, that women in stunning attire and hats are screaming words their mothers never taught them and that the winner emerges victorious and becomes the next Triple Crown would-be darling.