Woods Masters Win Yield William Hill US Bettor James Adducci $1,275,000 Check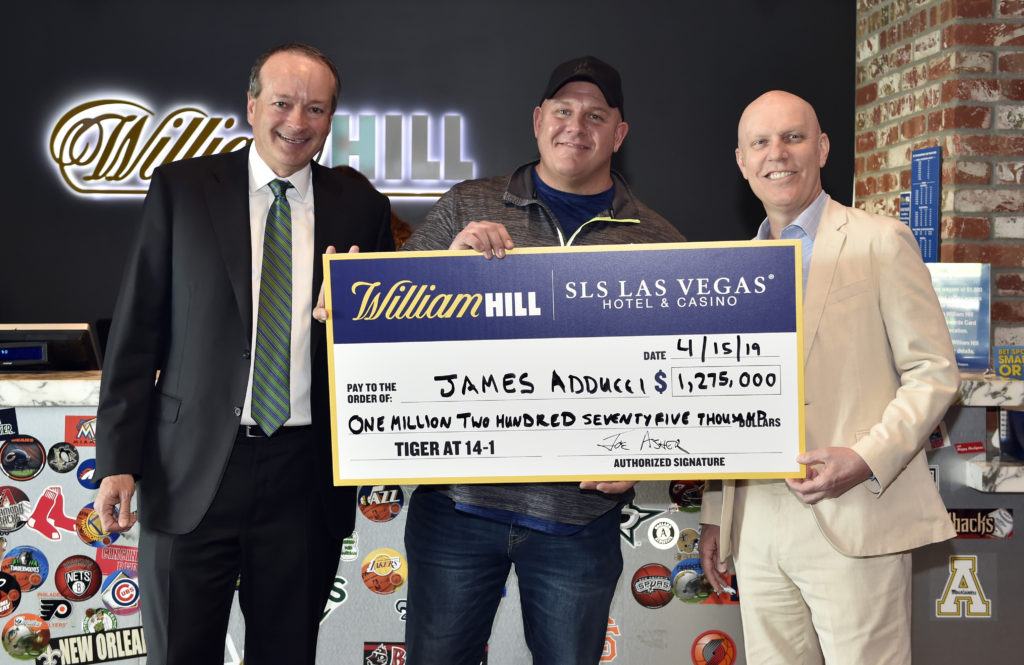 William Hill US today announced James Adducci, 39, of Wisconsin, as the winning bettor of the massive $1.19 million payout after Tiger Woods's 2019 Masters Victory. Mr. Adducci placed an $85,000 bet on Tiger to win the 2019 Masters Tournament on Tuesday, April 9, 2019, at 14/1 (+1400) odds, at the William Hill Sports Book at SLS Casino which resulted in the largest golf payout in William Hill history.
To celebrate the win, Joe Asher, CEO of William Hill US, and Paul Hobson, General Manager of SLS, presented Mr. Adducci with a check for $1,275,000 (inclusive of the 1,190,00 payout plus the original 85,000 stake) at the William Hill Sports Book at SLS Casino on Monday, April 15.
"This is a story for the ages," said Asher. "Tiger climbs back to the top, and a guy from Wisconsin, on his first sports bet ever, wins over a $1 million betting on him. We congratulate both James and Tiger on their epic wins."
"Golf was so special for my dad and I," said Adducci. "To see Tiger win a major tournament for the first time in front of his kids meant a lot to me."
Adducci flew to Vegas on the morning of Tuesday, April 9, to make the wager on Tiger, his first sports bet ever, before flying right back home.